Due to the lack of moisture and nutrients, nails can dry, peel, break, have a patchy color and uneven surface, and also grow slowly. Nail oil is the best tool for moisturizing nails and cuticles.
BERENICE Rich Nutritive Oil has become one of the brand's bestsellers. It is based on a complex of precious oils from sweet almond, lemon peel, castor seed and soybean glycine, as well as vitamin E.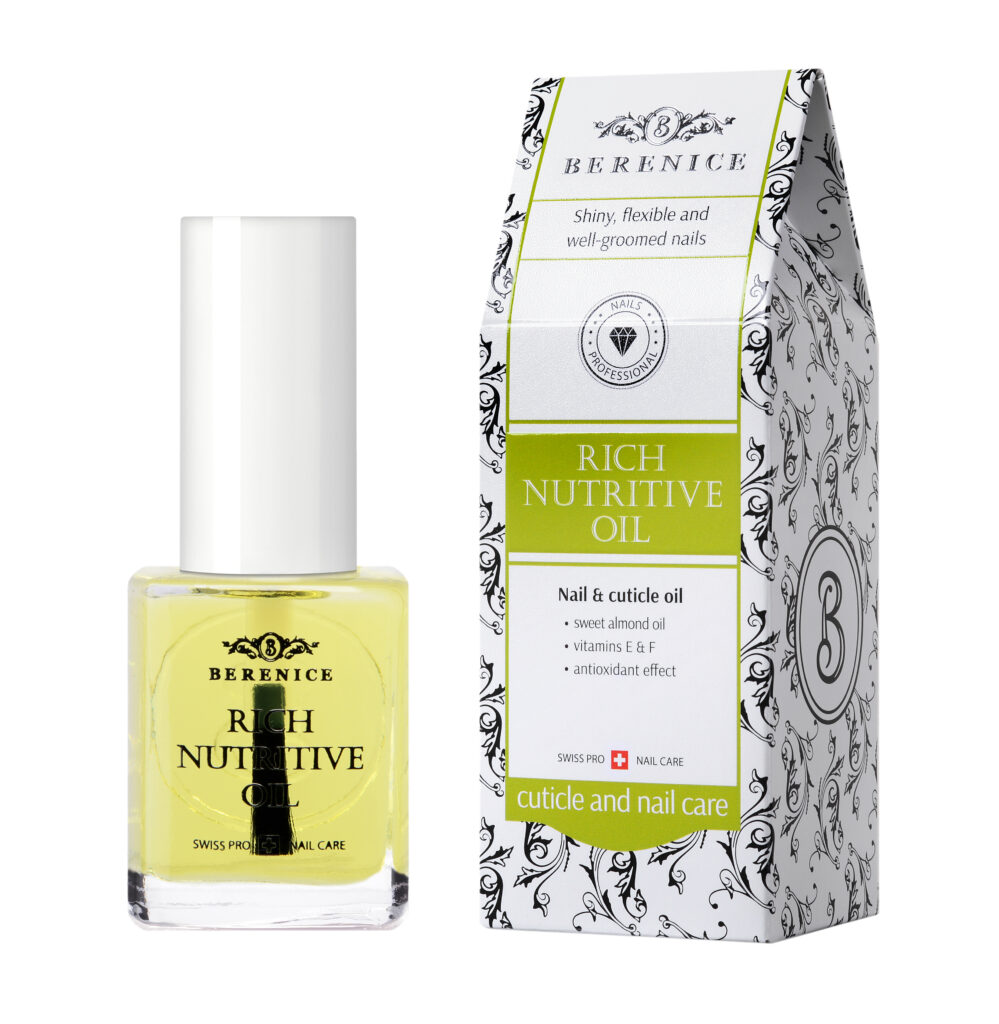 Sweet almond oil – rich in fatty acids, minerals and vitamins. It deeply nourishes the skin and nails. Stimulates nail growth. Prevents brittleness, eliminates peeling. Softens the cuticle.
Lemon peel oil – whitens the nail plate and provides an antibacterial effect. Strengthens the nails, gives a natural shine. Accelerates the healing time of the damaged cuticle.
Castor bean oil (castor oil) – rich in saturated fatty acids and antioxidants. Strengthens the nails. Smoothes the uneven surface of the nail plate. Softens the skin.
Soy glycine oil is a source of proteins and vitamins. Stimulates cell regeneration. Nourishes and restores the skin. Provides a powerful moisturizing effect.
Vitamin E has a powerful antioxidant effect and protects against negative environmental factors. Strengthens and stimulates the production of collagen and elastin in the nail plate.
Rich Nutritive Oil will become your reliable assistant in daily nail care routine.
If the nails are covered with the nail polish or gel polish, then apply oil to the cuticle, it will give the manicure well-groomed look and provide moisture to the skin.
If the nails are without nail polish, it is better to apply the oil on the nail plate and the skin around, then gently massage until absorbed.
And do not forget about the toenails, they also need additional care.
If you use BERENICE breathable nail polishes, as well as Oxygen Base and Oxygen Top Coat, then, due to the unique formula, the beneficial components of the oil will be able to penetrate the nail plate through a colored nail polish.
We recommend to use the treatment as and when necessary, but at least once a day.
The oil is perfect for all types of nails, especially for dry, exfoliating ones, as well as during rest from gel polish and nail extensions.