Today we can't even imagine the process of manicure without orange sticks. Orange sticks have come to the manicure world from… dentistry. The dental tool named miswak (miswaak, siwak) was used for cleansing teeth and was manufactured of roots of a tree of Salvadora Persica and an Orange tree. These materials have been chosen for the moisture resistant properties and durability. Wood of an orange tree has dense structure which isn't stratified and has antiseptic properties. For the first time for manicure orange sticks have begun to be used in France.
Orange sticks from BERENICE are an ideal tool for work with a cuticle and also for design of nails. They have the extended form of 13 centimeters which if necessary can be sharpened – it is convenient for work. Orange sticks are the disposable tool. The package of BERENICE includes 10 sticks.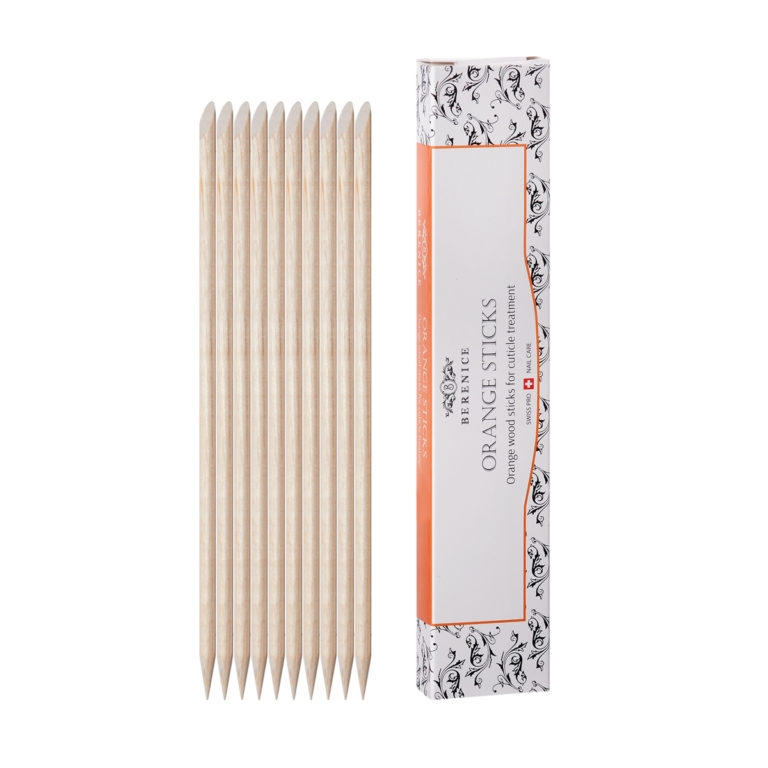 Other ways to use the Orange sticks:
Cleansing nails. It is very convenient and safe to delete the pollution from an internal surface of a nail plate with the pointed end of a stick.
Moving away of a cuticle. In the procedure of the European manicure the cuticle isn't deleted but removed. Using an orange stick the process becomes easy, and unlike tools of plastic and metal, such sticks don't lead to damage.
Removal of a cuticle. Before removal of a cuticle it needs to be softened. «Cuticle Peeling» from BERENICE will help you with that. After softening, the cuticle needs to be removed by the sharpened end of an orange stick.
Design of nails. The orange stick is ideal for drawing even small elements of design – rhinestones, stickers, etc. and also to do painting.
Correction of manicure. Using an orange stick helps to correct mistakes in manicure, for example, to remove varnish if it has got on skin around a nail. For this purpose, it is necessary to moisten the sharpen tip in liquid for varnish removal, for example in «Nail Polish Remover» from BERENICE.